Teaching with Bird Houses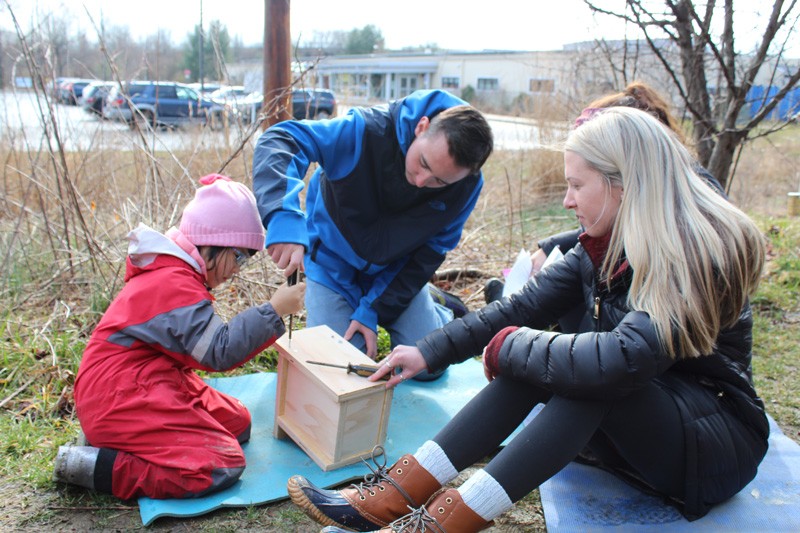 Early childhood education and engineering majors collaborate to build bird nesting boxes
On a chilly morning recently at the University of Delaware's Children's Campus, a few dozen children — guided by undergraduates — took hold of screwdrivers to build nesting boxes for local native birds.
Sponsored by the College of Education and Human Development and the College of Engineering, the project is part of a nationwide monitoring program called NestWatch, which crowdsources information about bird reproduction — including nesting dates, number of eggs laid, hatched and how many hatchlings survive — to better understand how bird populations are changing over time as a result of climate change and loss of natural habitats due to urban sprawl.
'Resident Ornithologists'
Working with Early Childhood Education (ECE) majors, who were taking part in the project as part of a class called, Early Childhood Inclusive Science Curriculum and Assessment (HDFS 413), pre-K and kindergarten students learned about various species of birds, their size, nesting place preferences, space needed between nests, wood preferences for a house and size of house needed based on the unique needs of each species. Children also observed birds and learned to identify the particular call of each species.
The ECE majors collaborated with master teachers at The Laboratory Preschool and The College School, both located on UD's Children's Campus, to develop the curriculum. According to Katie Pollock, master teacher at The Laboratory School, these kinds of activities encourage children to be more aware of the relationships that exist among all living things.
"The children have become our resident ornithologists," said Pollock. "Every morning, we greet the birds during our morning meeting and they say hello back. Helping children to be conscious of all creatures — large, small, feathered, and furry — is one of our missions at the Nature Preschool."
"It's wonderful that our undergraduates can take an active role in shaping curriculum," said Jennifer Gallo-Fox, assistant professor in the Department of Human Development and Family Sciences. "Not only does this project provide undergraduates with an engaging teaching experience, but these experiences make a meaningful contribution to the Laboratory School's program while also providing foundational learning opportunities that will support their work in future classrooms."