Intriguing Preschoolers with STEM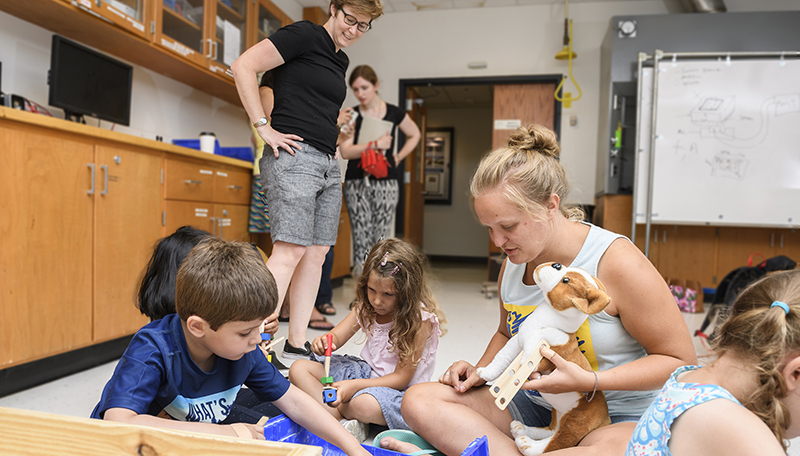 Body Mechanics camp teaches youngsters that engineering is fun
Teaching a gaggle of 4- through 6-year-olds how to analyze the X-rays of a patient with scoliosis may seem like a herculean task.
But at the University of Delaware's Body Mechanics camp, sponsored by the Laboratory Preschool, the eager youngsters joined Jenni Buckley, assistant professor of mechanical engineering, on the floor of her Design Lab, contorting themselves into S-shaped replicas.
"I learned about scoliosis," 4-year-old Emerson said. "It makes your body not straight. My doctor can help."
And Vincent, also age 4, confessed to being scared of the skeleton, "but I became brave. And I learned that animals have bones, even T.rexes."
While teaching young children about bones, tendons, cartilage and X-rays may seem premature, experts disagree.
"It is never too early to explore STEM topics with children — they are naturally inclined to explore and question, and high-quality learning environments provide children with the structure to do just this," explained Monica Shire, master teacher at the Lab Preschool. "Research has shown that high-quality pre-K cuts the rate of children being held back a grade in half and increases college attendance by a whopping 80 percent and employment by 23 percent."
"The Lab School's work in STEM areas is designed to address this learning gap," said Cynthia Paris, director of the Lab School. "We use our summer programs as development and testing sites for new curriculum that we then integrate into our school-year programs."
Body Mechanics is one of four STEM summer programs offered by the UD Lab School. It was developed in collaboration with UD's Department of Mechanical Engineering and The Perry Initiative — an outreach program aimed at building the pipeline for women in engineering and medicine.