Young campers visit The Perry Initiative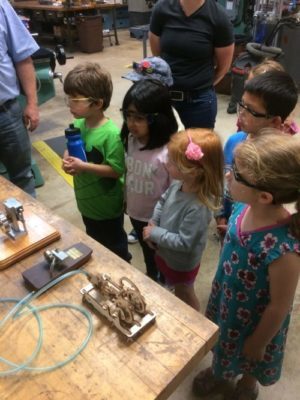 Young campers attending the University of Delaware Laboratory Preschool's Body Mechanics camp visited The Perry Initiative on Monday and Wednesday and worked closely with co-founder, Dr. Jenni Buckley. The campers learned about bone anatomy, breaks, and repairs. They also had the opportunity to put fractured bones back together and break chalk to simulate the forces that yield different bone fracture patterns. These impressive learners also analyzed the x-rays of a patient with scoliosis and learned about spine anatomy in great detail. They completed their day by touring the mechanical engineering facilities at the University of Delaware and interacting with college students and other faculty.
The hands-on activities completed by the campers are all part of their in-classroom curriculum, Orthopaedics in Action. The showcased lessons are Fractured Puzzles and Scoliosis Diagnosis. More information about the lessons can be found here.