Natural Start Alliance Member Spotlight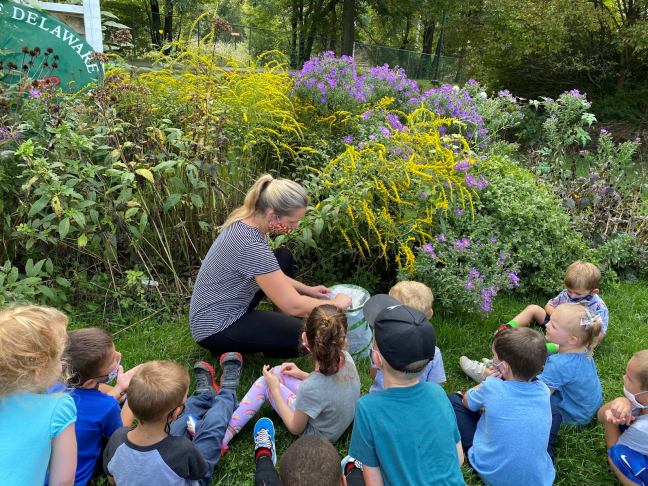 Natural Start Alliance spoke with Katie Pollock, the Master Teacher of the Nature Preschool to learn more about our program.
---
Tell us how the nature preschool began. What impact has it had on the Lab School overall?
Eleven years ago, we moved from the main campus to our current location. What we came to find was that the new location provided more natural space to explore, and would allow us to open a Nature Preschool Program.
The birth of this new program came after much research, and listening to my heart to break out of the four classroom walls. I asked Dr. Cynthia Paris, our director at the time, what her thoughts were about beginning something new. Her supportive leadership and organization kept us goal focused to ensure opening the following school year.  The growing enthusiasm surrounding this new program gained momentum as UD campus grounds crew, the city of Newark, and existing families all came together.  Working as a team has been instrumental at tackling challenges together. Listening to one another, being honest, seeking insights of other experts, and attending conferences as a group has shown us the positive impact of nature-based education.  Now all of our programs throughout the UD Lab School place a greater emphasis on connecting children to nature, developing their sense of wonder, and utilizing all outdoor learning environments surrounding our new building.
---
What does a typical day look like in your Nature Preschool Program? How do you work with the University and undergraduates?
The families drop their children off dressed for the weather since we are an all-weather, primarily outdoor program. The children walk through the meadow path and up to our stump circle where we do our morning yoga followed by group time. After the group meeting, we run down to our outdoor learning environment, which has ample space to run, climb, cook in our mud kitchen, watch birds in our bird blind, balance, dig, paint, woodwork, and so much more. We read a story under the trees and then hike inside to change our outdoor clothing and switch gears for indoor play. The children love observing our class pets – fish and a rabbit – as well as engage with one another in familiar centers. Our day ends with a journal, lunch, and playground play.
The UD Lab School Nature Preschool program consists of one Master Teacher, one to two student teachers, and sixteen children. Student teachers take an instrumental role as they watch the children contribute to our child-led curriculum. They assess, interact, and scaffold children daily. When the children leave, the student teachers and I talk together about our day. We are able to reflect on specific activities, children's responses, and plan/prep accordingly for the days and weeks ahead.
---
What are your hopes for how programs like the UD Lab School will impact the future of nature-based early childhood education?
Being a part of a university, we have an incredible responsibility to share and educate the future educators of our field. While not every student teacher sees themselves as a nature educator, they all come to see the importance of environmental education in the early years. They are challenging themselves to think about how they can take their experiences with us and apply them to their setting. We are grateful to have been able to help student teachers turn to nature for stress reduction themselves.  As a direct result of their work with us, student teachers are able to practice child-led curriculum development, practice the inclusion of rich science content, and advocate for change.
---
Your team regularly presents at Natural Start's annual Nature-Based Early Learning Conference. What sorts of things have you presented on in the past? Why do you find it valuable to present at and attend this conference each year? 
Four years ago we attended the Natural Start conference in Chicago. We instantly saw that these conferences were different from any other conference we had attended. The focus on building a community of nature educators; networking with one another; and sharing stories, resources, and experiences, freely and without competition, felt like home. Some of the topics we have presented in the past include our story of how we opened the Nature Preschool Program; our bird project that involved ECE students, engineering students, and our preschoolers; curriculum analysis; mindfulness; and "Glorious Mud! – Using nature to reach pre-service teachers who have limited outdoor experiences themselves."
We look forward to the conference each year. While we were disappointed to not come together last year in person, the virtual conference was phenomenal. We know that each conference holds with it opportunities to add to our knowledge base, to connect to other nature educators, and to spend time with friends from all over the country.
Take a closer look at the Lab School and the Nature Preschool Program is this 7-minute video