Amid coronavirus fears, Newark private schools take classes outside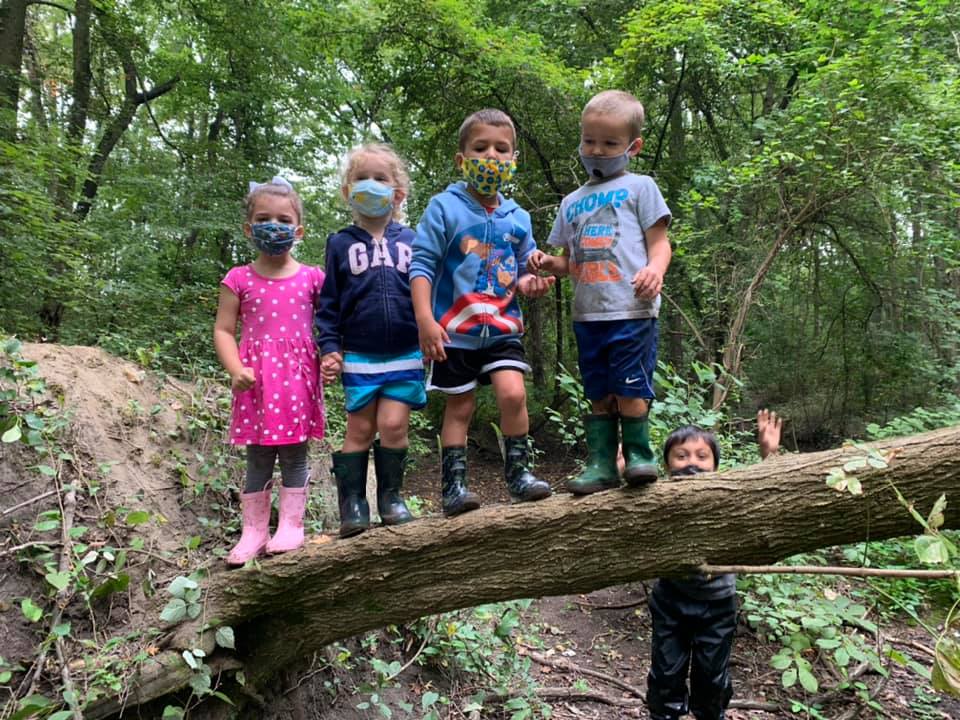 As evidence mounts that COVID-19 spreads more easily indoors, many people are getting used to spending more time outside. Hanging out at the park or dining on a restaurant patio may seem familiar, but some private schools around Newark have taken classes outside, and students are getting used to the new normal of outdoor education.
The Christina School District began the year with six weeks of virtual instruction. As district leaders pursued new strategies to bring students back safely, private schools saw upticks in admissions interest. They pitched tents, taking advantage of large campuses, small class sizes and flexible curriculums to explore what the natural environment can add to learning.
The University of Delaware runs a nature preschool through its Lab School, a program under the Department of Education & Human Development. Katie Pollock, a master teacher at the nature preschool, said its classes meet in any weather conditions.
Pollock said other programs that are new to outdoor education are worried about weather because they don't have the experience of teaching in a storm or on a frosty winter morning.
"They're thinking of the discomfort versus thinking of the comfort that can be brought through having experiences in all types of weather," she said. "We also teach resilience through the weather – we're not going to go inside just because it's raining."
The Lab School has run a nature preschool for three years now and uses not just the weather but the changing seasons to deepen science learning. Pollock connected this to holistic child development, adding that observing their environments can deepen students' understanding of the world around them.
"Being able to use the environment and the surroundings in a meaningful way is really a gift," Pollock said. "Right now, the children have been doing a lot of picking up different leaves that have fallen, and from there, we're able to put out tree identification cards and matching games where they're matching the different shapes of leaves to have that environmental literacy."
She said the pandemic has not dramatically changed the way her classes approach learning, although they have taken additional measures to ensure students stay safe.
Staff must wear masks, and students are strongly encouraged to do so, although as preschoolers, they are not required to. The school increased cleaning protocols and takes the temperature of students every morning. Drop-off is staggered to reduce the number of parents around at any one time, and the school has adjusted group sizes to keep students in smaller cohorts.
Some parents may share concerns about bugs, bad weather or falling from trees. But for Pollock, outdoor education was already the safer school option even before the pandemic.
"Being outdoors is good for your mental health. Being outdoors is good for your physical health," she said. "You're moving more, you're using your body and you're building muscle. All of those things that were occurring before are still true now."
Pollock, whose husband is a public school teacher, said she's seen firsthand the challenges of returning to something like normal learning in public school.
While she would love to see more schools take up outdoor education, and even leads workshops for other teachers, Pollock acknowledged that the number of students in public schools would make outdoor learning hard to coordinate.
Still, she's already seeing the impact of outdoor education becoming more mainstream as more schools take learning outside. Even many public schools in the area have set up classrooms outside that teachers can share just to get kids outside from time to time.
"I would hope that this would be one of the bright sides of the terrible things that are happening," she said. "My hope is that children are actually able and encouraged at school to be spending more time of their long school days outdoors."